Vizgen's MERSCOPE® Platform is a complete end-to-end platform for performing in situ single-cell spatial genomics measurements using MERFISH Technology. The product offering includes:
• The MERSCOPE Instrument and Analysis PC for data processing
• Custom gene panels, currently up to 500 genes, designed using the Vizgen Gene Panel Portal
• Reagent kits and consumables
• The MERSCOPE Vizualizer Software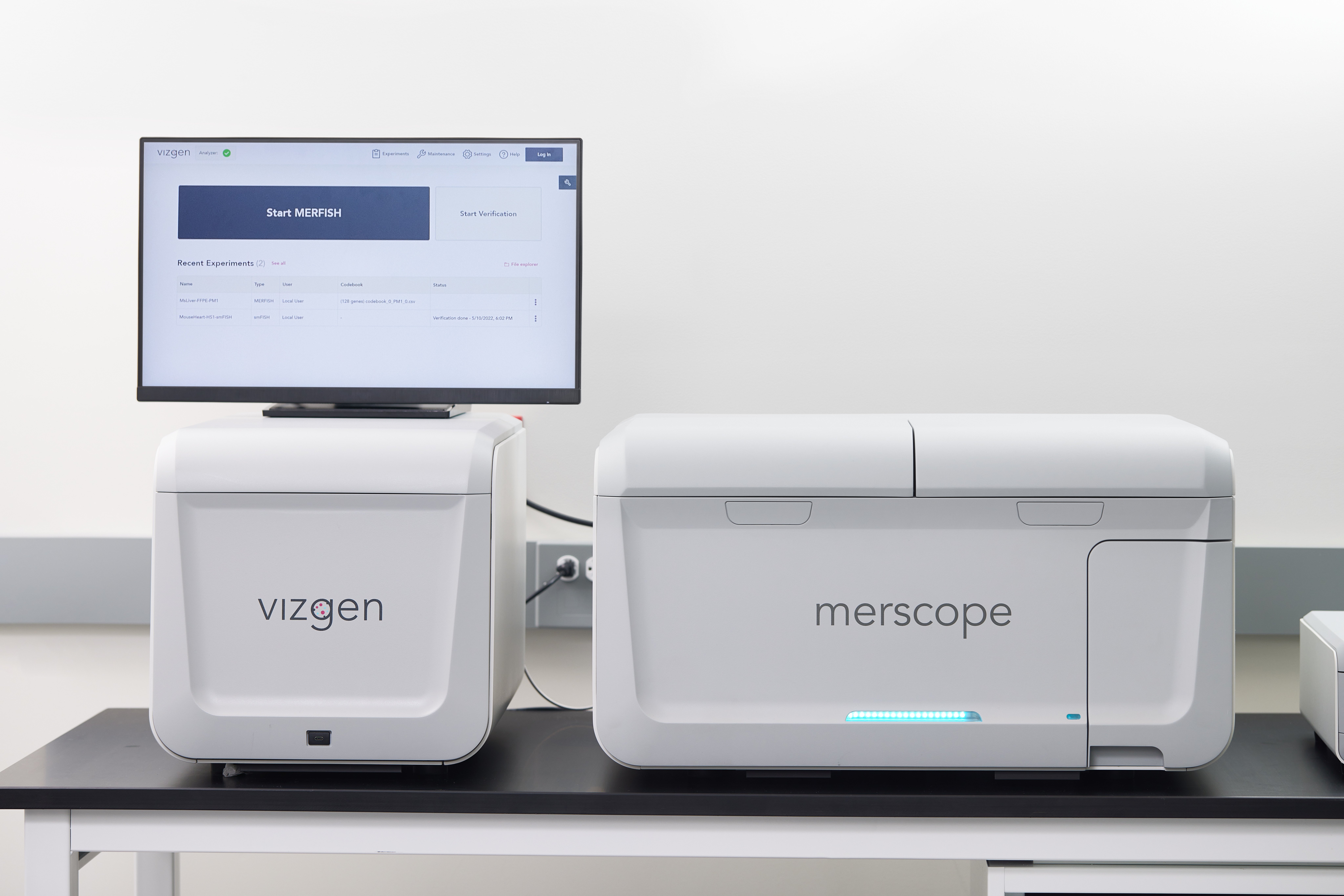 Discover what customers have to say
"In my lab we are interested in biomechanical modeling of muscle, which requires a thorough understanding of the cellular and molecular organization within the tissue. By using MERSCOPE to create organ-wide atlases, we will be able to root our models in the precise physical architecture of muscles from healthy and diseased donors." Pallav Kosuri, PhD, Assistant Professor, Salk Institute
"I'm excited to have a MERSCOPE system installed in our Center, where we will use it to explore the molecular mechanisms of Alzheimer's disease on a spatial transcriptome-wide level. I look forward to building on the proof-of-concept study, which cataloged the spatial distribution of 150 target genes in specific cell types and identified where early changes in gene expression occur in a mouse model of Alzheimer's disease." Xiangmin Xu, PhD, Professor of Anatomy & Neurobiology and Director of the Center for Neural Circuit Mapping, School of Medicine at the University of California, Irvine
"Spatial Technologies are the new frontier in biomedical research, and we expect them to expand and potentially rewrite our understanding of human pathologies." Ioannis Vlachos, PhD, Director of the Spatial Technologies Unit and Co-Director of the Bioinformatics Program at BIDMC.